On Wednesday (kellokeskiviikko) people used to put bells hanging on cows' necks to scare away the Easter witches.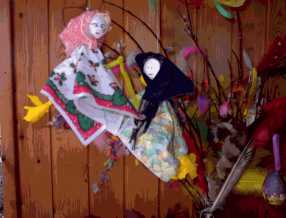 Thursday has been the cleaning day. In the old days people made smoke and a lot of noise in the yards to scare away the evil. We have Holy Communion on Thursday, too. People used to think that if the weather was good on "kiirastorstai", the next summer would be good for fishing.
Friday and Saturday (pitkäperjantai, lankalauantai) are the worst days of the whole year. Jesus was still in the grave. The bad spirits are moving around. In the old times it was not allowed to visit even the closest neighbours. People didn't heat their houses and they ate only cold food. Milk and crean were forbidden and you couldn't laugh so your teeth would show. Nowadays many people go to church on Thursday and Saturday.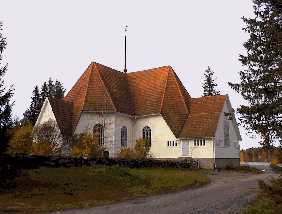 Easter was the time of many omens. For example, you got the personality of the first animal you saw on Eastermorning for the whole next year. If you saw a cow, you would become lazy, if a horse you would be very strong for the next year... People used to climb on the roof to watch the sun dance.
On Eastersunday people celebrated the end of fasting.